Roger Davies - Local Radio
Roger Davies sings about what he knows, his songs providing a celebration and a commentary of life in his native West Yorkshire. Whilst, at first glance, this might seem a fairly narrow world, it is a world into which Roger draws you in and, ultimately, makes you feel welcome.

Local Radio is Roger's fifth album and the ten songs it contains are lovingly written, beautifully structured and expertly crafted examples of the singer-songwriters art. Songs about the delights of drinking away a Saturday night in Brighouse (The Old Ship Inn) or capturing the last dance with a pretty girl (Georgina) are delivered in a simple, engaging way. As Roger himself says about his writing on One More Song, "I'll write down something simple I can sing tonight on stage". Yet this simplicity can be deceptive. Scratch the surface of Roger's observations of ordinary life and you find subtle and often quite moving insights into relationships, families and the social values that sometimes bind us together and sometimes drive us part.

Stand out tracks include Le Grand Depart, which chronicles the memorable visit of the Tour De France to Yorkshire in 2014 as well as capturing the feeling of sheer disbelief amongst many that we didn't manage to mess it up. Bradford Born 'n' Raised finds Roger reflecting on childhood and referencing some unlikely Bradford landmarks. I'm not sure that Laisterdyke, with its "street lamps a glowing", has been mentioned in many songs before. However, perhaps my favourite song on the album is the more personal Hard To Believe It. A lovely song that serves as a reminder that we should not allow ourselves to take our relationships for granted. Local Radio has its inconsistencies and not all of its songs worked as well for me as others. But it is never less than enjoyable and, overall, is a delight. Roger Davies styles himself as the 'Yorkshire Songwriter' and, whilst this is an apt description, his music and his songs reach far beyond the confines of the county borders and deserve and demand wider attention.

Here is the official video for Le Grand Depart.


Stark - Tunnel Vision - Exclusive Video Premiere
Stark have returned with their latest single Tunnel Vision released 2nd March 2015.

Tunnel Vision is about modern life and how, sometimes, the freedom that we take for granted can be an illusion. After reading articles about scientists putting electrodes into rat's brains to make them go left or right into tunnels, the boys felt it would make a great metaphor for the way huge corporations treat people. Check out this video exclusive of Tunnel Vision. For more info on the band visit their website at www.starkband.com.


HENRY ROLLINS AT TOWN HALL, BIRMINGHAM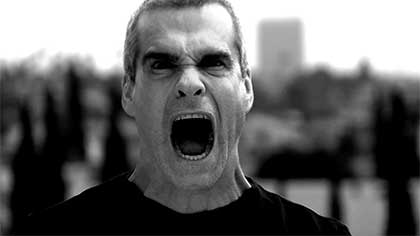 Often erroneously charged with being a misanthrope, I usually resort to citing Charles Bukowski in my defence - it's not that I hate people, I just prefer it when they're not around. Henry Rollins, you suspect, may be cut from the same cloth.

Yet self-contained or not, the former Black Flag frontman has no problem getting intimate with a packed house at Birmingham's Town Hall, sharing bits of himself many of us would rather keep hid. His old man's a virulent racist (think Donald Trump minus the Velcro thatch and his gazillions), his old woman, at best, someone with flawed judgement when it comes to shacking up with members of the opposite sex. Goes to show, you can be the progeny of cretinous ciphers and still turn out reasonably right.

Rollins isn't all about exorcising and excoriating his demons though, whether familial or psychological. He tells a good anecdote, and with a set clocking in at under three hours he tells enough of them to sustain our rapt attention. Nobody even realised we had fallen victims to a haemorrhoid epidemic until we embarked on our knotty homeward journey with the collective gait of people concealing bountiful orchards up our posteriors. Stories about the late and (cliché alert) lamented Lemmy and David Bowie were shared generously (with Rollins placing himself as the fall guy in each) and received lovingly, while funny bones were well and truly tickled (and hearts a little melted) as his acting cameos in Michael Keaton's vomitous Christmas movie, Jack Frost, and American TV blockbuster Sons Of Anarchy were recalled. Hard to believe there are some folk who have evolved and are equipped with the same faculties as you and I, yet they still can't differentiate between an actor and a character. Doh! The music, the writing, the film work, the journalism, the publishing, the television and radio hosting, the activism and the stand-up comedy notwithstanding, Renaissance man Rollins seems to have found his metier in spoken word.

David Burke
Fiona Katie Roberts at Black Dyke Mills



Many disused West Yorkshire mills have had an unexpected second life as arts venues. Halifax's Dean Clough may have begun the trend, but it was consolidated rapidly by Salts Mill, before other venues joined in, briefly but magnificently, for individual events - productions of 'The Oresteia' and 'Hamlet' at Greengates' Robin Mills and 'City of Dreams' at Drummonds in Manningham.

Latest to give space to culture is the mill with the most evocative name of all - Queensbury's Black Dyke Mills. 'The Secret Song Project' began earlier in the year at the Black Dyke Mills Heritage Venue, with a view to staging events at least every month. March's event was an extraordinary musical evening, featuring sets from double bassist Seth Bennett and harpist Fiona Katie Roberts.

Taking up half a floor in the old weaving shed, the fabric drapes that separate off the concert area contrasted with the rough industrial surroundings in the same way as the concert contrasted with the building's original use. A wide age range in the sixty-strong audience was mostly clad in fleeces and blankets: the website advises "The mill can get a bit chilly so it is wise to dress up warm - this is Queensbury after all!"

Bennett's performance consisted of a set of solo double bass improvisations. "This is the first of the two most impractical instruments around, that you're going to hear tonight." he told the audience. Alternating between bowed and plucked styles, the former recalled contemporary classical composer Arvo Part's music, while the latter brought to mind Jimmy Garrison's contributions to the John Coltrane Quartet. It was a spellbinding half hour performance.

After an interval which emphasised the community aspect of the venue (announcing the availability of sticky buns and corned beef hash), Oxenhope's Roberts delivered an extraordinary set. This featured a home-made harp with four sets of strings, a set-up engineers had told her was impossible. To produce music of such delicacy in the chilly industrial surroundings of the mill was a feat that seemed almost equally impossible, though little could be more appropriate here than skilled fingers working away at a multitude of strings.

The musical pieces, all written by Roberts though some based on older tunes, told whimsical, fantastical stories, including that of an Arabian girl who married an Ethiopian prince, who in turn became Roman governor of Britannia - a story Roberts insisted was based on fact. I'm almost ashamed that I checked on the story and found little evidence. The point of the evening was, rather, to be caught up in the fragile beauty of the music and the improbable renaissance of an iconic building through the efforts of the Queensbury community.

For details of upcoming events please visit the Black Dyke Mills Heritage Venue website.

Mike Farren
Amy MacDonald - The Sage, Gateshead
What a diverse audience Miss Macdonald attracts. From couples in their sixties, families with young children, groups of young men in Rangers shirts and young women bellowing 'we love you Amy,' to a travelling pose of Glaswegians who sang along lustily as if these were songs proclaiming national pride. Collectively they came to dance and sing-a-long to their favourite tunes, something they were able to do in abundance.

Though proceedings did make a lukewarm start with '4th Of July' from her latest album Life In a Beautiful Light. Likewise her first single 'Poison Prince' failed to ignite the mass dancing and singing that was to follow. This eventually arrived with 'Mr. Rock And Roll' and carried on as the cavalcade of hits flowed from the stage. 'Run', 'This Is The Life', 'Spark', 'Don't Tell Me That It's Over' all eliciting the anticipated response from her faithful following.

In the midst of these came a rare reprieve from the tub-thumping anthems for an acoustic interlude featuring Jackie Wilson's 'Higher And Higher'. Her rendition brought nothing new to the classic soul number but it did demonstrate that she is more than capable of stretching beyond the confines of her own material. Something that was not obvious with her only over cover, Springsteen's 'Because The Night,' which was presented in the same formulaic way as the majority of what preceded it. This lack of diversity in her style doesn't bother her fanatical audience however who adore her. And rightly so as she delivers a great feel-good performance.

Simon Rowland
The Distractions - King's Arms, Salford
Well over 30 years since the release of the glorious Nobody's Perfect on Island Records The Distractions are back with a new album - The End Of The Pier - and a couple of gigs at the Kings Arms, Salford. Will time have faded the magic? Richard Hall went along to find out.

I bought Nobody's Perfect back in 1980 and immediately fell in love with it. Over the intervening years its collection of melancholy, heartfelt lyrics set atop shimmering and wonderfully poppy tunes has never been far from my stereo. I think of it as a friend. The thing with friendships is that they are often best left to trundle along just the way they are. Many a relationship has been cooled by an unnecessary apple cart shaking. It was, therefore, with a certain amount of trepidation that I made my way across the Pennines to the King's Arms Salford for the second of the bands comeback gigs.

The band opened with Lost - a fine song, even though the ending went a bit haywire with drummer Mike Kellie of Spooky Tooth and Only Ones fame manfully trying to hold things together. This lack of certainty with the material was a theme that ran through the evening and formed part of its charm. The band had had precious little rehearsal (guitarist Steve Perrin lives in New Zealand), lead singer Mike Finney unapologetically made full use of his lyric sheets whilst guitarist Nick Halliwell and bassist Arash Torabi (outwardly at least) made light of the fact that they were playing some of the songs for only the second time. This mattered not a jot. If we wanted slick and soulless we wouldn't have been there. What we got was warmth and humour and feeling and the sense of musicians coming together for the love of doing what they do.

At the centre of all of this was Mike Finney's voice. He always (in my book at least) had one of the best voices around - a rich, soulful, gritty baritone that went straight to the heart. An unlikely looking pop star back in the day (and nothing really has changed) he sang as well, if not better, than ever and it was a joy to hear.

The set drew heavily on the new material. Highlights included Wise - an emotional, honest and quite moving account of (I am guessing) Perrin and Finney's experiences of getting together again - 'The girls all used to fall for the twinkle in your eyes, As I look at you there's still work to do to be wise' - and Girl Of The Year which I though was a bit lightweight on first hearing but has grown on me with every listen. For those wanting a trip down memory lane we got the wonderful Waiting For Lorraine and Leave You to Dream from Nobody's Perfect along with spirited versions of their two Factory singles It Doesn't Bother Me and Time Goes By So Slow. The evening was brought to a close by the irresistible power pop of Valerie and for a few fleeting moments I was 21 again. Goodness knows when they will get together again - the logistics of the band make this almost impossible - but for this one night they not only recaptured the past but added something special and new. Friends, sometimes you just have to trust them.

The End Of The Pier is available from Occultation Records.